Yin-Yang1 (YY1), also known as "negative-positive 1" in Chinese. The transcript factor gets its name from the dual role of gene activation and repression, such as the "Ying-yang Tai Ji" pattern in Chinese culture. The discovery drew great attention in the academic world. As a representative work of Prof. Shi yang from Harvard University, the study has been published in Cell in 1991.
YY1 was originally identified as a transcriptional repressor due to its interaction with the Polycomb repressive complex 2, which further initiates the tri-methylation of
K27 of histone 3 (H3K27me3) to repress specific genes. The PcG-independent gene expression-promoting functions of YY1 are also reported [1]. Moreover, YY1 has been reported to regulate cell proliferation and differentiation, and its deficiency in mice caused peri-implantation lethality during embryonic development [2]. It also plays a crucial role in tumor development [3]. In the pluripotency regulatory network [4], YY1 is a key factor. All these studies suggest the regulatory potency of YY1. Recent reports have demonstrated that YY1 can also function as a chromatin structure factor which mediates 3D interactions between enhancers and promoters [5]. The discovery quickly drives YY1 a star factor.
However, how does YY1 regulate gene expression in pluripotency stem cells? Stem Cell Reports published an article of Prof. Ding junjun, Researcher Wang jia etc,in March 14th studied by Prof. Ding junjun, Researcher Wang jia etc., YY1 Positively Regulates Transcription by Targeting Promoters and Super-Enhancers through the BAF Complex in Embryonic Stem Cells.
Super-enhancers (SEs) are clusters of enhancers seriating along the chromatins, upon which the enrichment of transcript factors and co-factors can drive related gene expression. SEs have a significant cell specificity for there are hundreds of SEs in a cell regulating key genes expression and determining cell fate [6].
As a chromatin remodeling complex, BAF plays a significant role in both maintenance and establishment of stem cell pluripotency [7,8]. In somatic cells, chromatin structureisalways more compact, thus the tight steric hindrancehinders the enrichment of transcript factors and the following gene transcription. It is necessary that the exposure of abundant enhancers and pluripotency genes from the impactchromatinstructurein pluripotency stem cells, in order to promote transcription. Therefore, BAF complex is of vital importance in chromatin remodeling.
In the recentresearch, the team revealed the role of YY1 and BAF complex in the OCT4-mediated pluripotency network in mouse embryonic stem cells (mESCs). The interaction between YY1 and BAF complex promotes mESC proliferation and pluripotency.
Moreover, the interaction alternative the mechanism of pluripotency regulation of YY1 through the switch from Myc-dependent pathway to Core-dependent pathway (via regulation of pluripotency genes such as Oct4, Nanog, Sall4 etc.).YY1enriches at both promoter and super-enhancer regions to stimulate transcription. Thus, this study elucidates the role of YY1 in regulating pluripotency through its interaction with OCT4 and the BAF complex and the role of BAF complex in integrating YY1 into the core pluripotency network.
BAF作为一种染色体重组复合物,在干细胞多能性的维持和建立过程中都发挥着重要作用【7,8】。染色体在体细胞中往往结构相对紧密,而紧凑的位阻不利于转录因子的富集和基因的转录。在多能干细胞中需要大量增强子和多能性基因从紧凑的染色体上暴露出来以促进转录,这一过程需要BAF复合物发挥染色体重组的作用【9】。 在最新的这项研究中,研究团队经过深入的研究发现,BAF与YY1和OCT4蛋白在胚胎干细胞中相互作用以促进大量多能性基因的表达。BAF与YY1的相互作用一方面进一步加强了YY1的转录促进作用,另一方面,BAF的加入改变了YY1对多能性的调控机制,使得原本在多能性调控中YY1依赖的Myc通路转为依赖于Core通路(通过调控多能性基因Oct4、Nanog、Sall4等)。YY1、BAF和OCT4的相互作用使得该蛋白复合物不仅大量富集于启动子区域,还富集于超级增强子区域(下图),这也从另一方面验证了YY1的染色体结构蛋白的功能,暗示了YY1在多能干细胞中促进增强子启动子染色体三维互作的形成。
阴阳蛋白(Yin-Yang 1,为什么叫"Yin-Yang1"呢?因为这个转录因子既有激活因子又可以作为阻遏因子,兼二者而为一,像极了中国文化中的"阴阳太极图"。这一发现引起了学术界的极大关注,这是哈佛大学施扬教授研究学术生涯中代表性的重要工作之一,1991年发表在Cell杂志)YY1即可通过招募Polycomb家族蛋白复合物促进H3K27的三甲基化修饰,对基因转录起抑制作用,又可通过非依赖于Polycomb的机制对基因表达起促进作用【1】。缺失YY1的小鼠在胚胎发育过程中的会发生着床期致死【2】,YY1还被发现在多种肿瘤中起到促进肿瘤发生发展的作用【3】,而且,YY1存在于多能性调控网络中【4】。上述发现都说明了YY1功能的强大。

近期的研究发现,除了上述功能之外,YY1还起到染色体结构蛋白的功能,并介导增强子与启动子三维互作的产生【5】。这一发现使得YY1迅速成为引人注目的明星因子。
然而,YY1在多能性干细胞中是如何调控基因表达的呢?
3月14日,Stem Cell Reports发表了中山大学中山医学院丁俊军教授、王佳研究员等人题为YY1 Positively RegulatesTranscription by Targeting Promoters and Super-Enhancers through the BAFComplex in Embryonic Stem Cells的论文,报道了YY1通过与染色体重组蛋白复合物BFA相互作用在胚胎干细胞中靶向启动子和超级增强子来促进基因表达和维持干细胞多能性。

超级增强子(super-enhancers, SEs)是一种由连续排列的增强子调控元件串联形成的超长增强子簇,转录因子和协同因子大量富集于其上,可以强力驱动细胞相关基因的表达。SEs具有明显的细胞特异性,细胞中存在数百个SEs控制着关键基因,决定细胞命运走向【6】。
BAF作为一种染色体重组复合物,在干细胞多能性的维持和建立过程中都发挥着重要作用【7,8】。染色体在体细胞中往往结构相对紧密,而紧凑的位阻不利于转录因子的富集和基因的转录。在多能干细胞中需要大量增强子和多能性基因从紧凑的染色体上暴露出来以促进转录,这一过程需要BAF复合物发挥染色体重组的作用【9】。
在最新的这项研究中,研究团队经过深入的研究发现,BAF与YY1和OCT4蛋白在胚胎干细胞中相互作用以促进大量多能性基因的表达。BAF与YY1的相互作用一方面进一步加强了YY1的转录促进作用,另一方面,BAF的加入改变了YY1对多能性的调控机制,使得原本在多能性调控中YY1依赖的Myc通路转为依赖于Core通路(通过调控多能性基因Oct4、Nanog、Sall4等)。YY1、BAF和OCT4的相互作用使得该蛋白复合物不仅大量富集于启动子区域,还富集于超级增强子区域(下图),这也从另一方面验证了YY1的染色体结构蛋白的功能,暗示了YY1在多能干细胞中促进增强子启动子染色体三维互作的形成。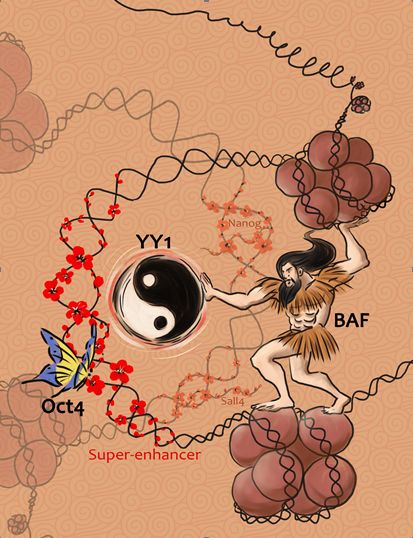 参考文献 (References):

1. Vella,P., et al., Yin Yang 1 extends theMyc-related transcription factors network in embryonic stem cells. Nucleic Acids Res, 2012. 40(8): p. 3403-18.
2. Donohoe, M.E., et al., Targeted disruption of mouse Yin Yang 1 transcription factor results inperi-implantation lethality. Mol Cell Biol, 1999. 19(10): p. 7237-44.
3. Gordon, S., et al., Transcription factor YY1: structure, function, and therapeuticimplications in cancer biology. Oncogene, 2006. 25(8): p. 1125-42.
4. Wang, J., et al., A protein interaction network for pluripotency of embryonic stem cells.Nature, 2006. 444(7117): p. 364-8.
5. Weintraub, A.S., et al., YY1 Is a Structural Regulator of Enhancer-Promoter Loops. Cell, 2017. 171(7):p. 1573-1588 e28.
6. Whyte, W.A., et al., Master transcription factors and mediator establish super-enhancers atkey cell identity genes. Cell, 2013. 153(2):p. 307-19.
7. Kadoch, C., et al., Proteomic and bioinformatic analysis of mammalian SWI/SNF complexesidentifies extensive roles in human malignancy. Nat Genet, 2013. 45(6): p. 592-601.
8. Singhal, N., et al., Chromatin-Remodeling Components of the BAF Complex FacilitateReprogramming. Cell, 2010. 141(6):p. 943-55.
9. Meshorer, E., et al., Hyperdynamic plasticity in pluripotent embryonic of chromatin proteinsstem cells. Developmental Cell, 2006. 10(1):p. 105-116.
转载自BioArt
---